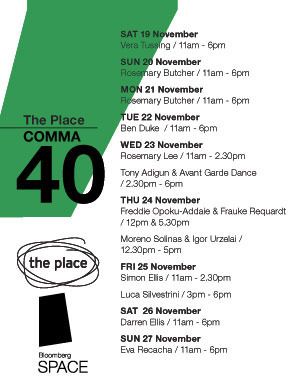 COMMA40: THE PLACE 19 — 27 NOVEMBER
COMMA is a dynamic series of commissions enabling artists to experiment and expand their practice in relation to the particular nature of Bloomberg SPACE.
For COMMA40, ground-breaking artists from The Place, will populate the gallery with creative research, evolving installations and impromptu performances.
Click HERE for listings: http://www.theplace.org.uk/634/whats-on/listings.html
OPENING HOURS Mon — Sat, 11am — 6pm
FREE ADMISSION NEAREST STATIONS Moorgate & Liverpool St.
Bloomberg SPACE 50 Finsbury Square London EC2A 1HD http://www.bloombergspace.com